Pioneer Launches Line of Private Label Engine Generators
New Line to be Marketed Nationally; Exclusively in Eight States; Company Books $850,000 Order, Largest Generator Order in Company History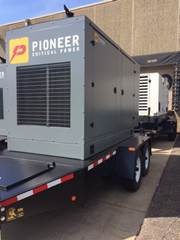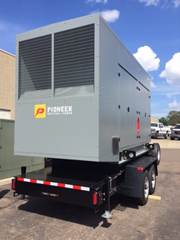 Fort Lee, NJ, August 3, 2017 / PRNewswire /-– Pioneer Power Solutions, Inc. (Nasdaq: PPSI) ("Pioneer" or the "Company"), a company engaged in the manufacture, sale and service of electrical transmission, distribution and on-site power generation equipment, today announced it is launching a comprehensive all-new line of power generation equipment designed for a broad spectrum of market segments, including but not limited to, prime power, standby power, agricultural, oil and gas, mobile, telecommunications and off-road applications. The line is expected to be marketed exclusively in eight states, and otherwise non-exclusively nationally, significantly expanding Pioneer's addressable market for engine generators.
Branded as "Pioneer Critical Power," the complete line of engine generators, ranging from 9 kW to 2 MW of output per generator set, marks the Company's initial foray into offering its own line of power generation equipment. The units are available for order now and first shipments are expected to begin in the third quarter of 2017.
Pioneer has already booked over $1 million in new orders for these new private labeled generators, including one order for four 500 kW Tier 4-Final generators with custom enclosures and automatic transfer switches valued at $850,000, representing the largest single generator order in Pioneer's history.
Nathan Mazurek, Pioneer's Chairman and Chief Executive Officer, said, "This is an exciting initiative for Pioneer, significantly growing our addressable market for engine generators and by selling our own branded solution, expanding our margins and giving us the opportunity to further grow our high-margin service business. By partnering with recognized leaders in the industry, we will be able to provide a broader suite of generator solutions, backed by best-in-class warranties and customer service."
Pioneer's diesel generator sets range from 9kW to 2,000kW, feature low operating costs for a wide variety of applications that require convenient and reliable power for EPA compliance for standby or prime power. All units come equipped with a two-year standard warranty and state-of-the-art engine and alternator for exceeding any application, along with common controller platforms for ease of use for your application needs. The Company's natural gas generator sets range from 25kW to 450kW and deliver clean, best-in-class power for standby or prime applications. Both product lines are designed and manufactured to operate in a multitude of environments and meet the most
– 2 –
current EPA standards to provide users an efficient and innovative power solution.
For more information on Pioneer Critical Power Generators, please contact Kwasi Twumasi at 952-512-2487.
About Pioneer Power Solutions, Inc.
Pioneer Power Solutions, Inc. manufactures, sells and services a broad range of specialty electrical transmission, distribution and on-site power generation equipment for applications in the utility, industrial, commercial and backup power markets. The Company's principal products and services include custom-engineered electrical transformers, low and medium voltage switchgear and engine-generator sets and controls, complemented by a national field-service organization to maintain and repair power generation assets. Pioneer is headquartered in Fort Lee, New Jersey and operates from 12 additional locations in the U.S., Canada and Mexico for manufacturing, centralized distribution, engineering, sales, service and administration. To learn more about Pioneer, please visit its website at www.pioneerpowersolutions.com.
Safe Harbor Statement:
This press release contains "forward-looking statements" within the meaning of the Private Securities Litigation Reform Act of 1995, as amended. Such statements may be preceded by the words "intends," "may," "will," "plans," "expects," "anticipates," "projects," "predicts," "estimates," "aims," "believes," "hopes," "potential" or similar words. Forward-looking statements are not guarantees of future performance, are based on certain assumptions and are subject to various known and unknown risks and uncertainties, many of which are beyond the Company's control, and cannot be predicted or quantified and consequently, actual results may differ materially from those expressed or implied by such forward-looking statements. Such risks and uncertainties include, without limitation, risks and uncertainties associated with (i) the Company's ability to expand its business through strategic acquisitions, (ii) the fact that many of the Company's competitors are better established and have significantly greater resources, and may subsidize their competitive offerings, (iii) the Company's dependence on a few large customers for a material portion of its sales, (iv) the potential loss or departure of key personnel (v) the fact that fluctuations between the U.S. dollar and the Canadian dollar will impact the Company's results, (vi) market acceptance of existing and new products, (vii) the Company's dependence on a distributor agreement with Generac Power Systems through which its Critical Power segment derives a significant portion of its revenues, (viii) restrictive loan covenants or the Company's ability to repay or refinance debt under its credit facilities that could limit the Company's future financing options and liquidity position and may limit the Company's ability to grow its business, (ix) general economic and market conditions, (x) unanticipated increases in raw material prices or disruptions in supply, (xi) the fact that the Company's Chairman controls a majority of the Company's combined voting power, and may have, or may develop in the future, interests that may diverge from yours, (xii) reported material weaknesses in the Company's internal control over financial reporting, and (xiii) the fact that future sales of large blocks of the Company's common stock may adversely impact the Company's stock price. More detailed information about the Company and the risk factors that may affect the realization of forward-looking statements is set forth in the Company's filings with the Securities and Exchange Commission, including the Company's Annual and Quarterly Reports on Form 10-K and Form 10-Q. Investors and security holders are urged to read these documents free of charge on the SEC's web site at www.sec.gov. The Company assumes no obligation to publicly update or revise its forward-looking statements as a result of new information, future events or otherwise.
CONTACT:
Brett Maas, Managing Partner
Hayden IR
(646) 536-7331
brett@haydenir.com